Prosthetics
Otto Bock C-Leg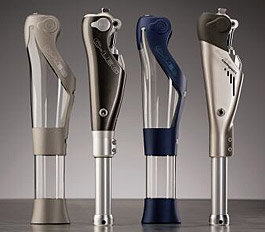 The C-Leg, developed by Otto Bock, is a micro-processor controlled prosthetic knee. First released in 1997, it is said to improve the amputee's gait by allowing a variable cadence and ability to travel over uneven ground. Sensors in the prosthesis provide feedback to the processor, which controls the resistance within the hydraulic cylinder.
In 2004, the C-Leg Compact was introduced. The Compact was designed for amputees with slightly lower mobility levels, and higher needs for stability. It has some differences, such as a different range for Static Stance mode, absence of 2nd mode, and lesser ability to adjust swing phase dynamically.
Indications
& Benefits
How it
Works
Gait
Biomechanics
Training
Strategies
Precautions
to Use
Links &
References
Information compiled by Tony Fitzsimons, June 2010.
Updated January 2012.